The Phoenix
Established in 1986, The Actors' Repertory Theatre of Idaho (ARTI) is a nonprofit, all volunteer organization dedicated to producing professional quality theatre for Southeastern Idaho audiences. Since its beginnings, ARTI has been a dinner theatre venue, offering audiences not only a wide variety of theatre, but also an intimate dining experience including beer and wine service. Since 2001, ARTI has owned its theatre, located in Historic, Downtown Idaho Falls, and recently named The Phoenix.
Often presenting groundbreaking and award-winning theatrical productions, as well as regional premieres, ARTI is known for its "adult" fare including such hits as The Vagina Monologues, Pillowman, Beauty Queen of Leenane, Five Women Wearing the Same Dress, Sordid Lives, and The Laramie Project. A favorite motto of ARTI and its members is "For Mature Audiences Only".
In keeping with traditional repertory theatre, ARTI relies on the dedication and talents of a core, or stock, theatre company which includes actors, directors and set and costume designers as well as other technicians. Audiences become familiar with this resident company both on and off stage. To familiarize themselves with the organization and become involved, newcomers are encouraged to audition, contact a board member or other member of the company, or attend an ARTI production.
ARTI is always on the lookout for dedicated and talented new members!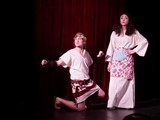 Giving Back
ARTI regularly presents shows with social significance. In summer 2002 ARTI produced The Laramie Project, a play about Laramie, Wyoming's response to the beating death of a gay student. Presented at the Colonial Theater, then in Pocatello, and again at the ARTI Theatre this show spurred much local discussion of human rights. It also raised $4000 which ARTI donated to the Southeast Idaho AIDS Coalition, The Haven Shelter, and City of Refuge Shelter. A second show, The Vagina Monologues, presented a passionate look at women's issues and has been the centerpiece of many events across the nation to raise awareness about violence against women. It was presented in 2003 and 2011 and helped raise funds for a rape and violence center in Idaho Falls.
ARTI has a long history of community outreach. For a number of years ARTI has offered "student night", a chance for local students and their teachers to see the final dress rehearsal of each show at no charge. We have frequently donated complimentary tickets to raffles or auctions conducted by groups such as Harbor House (a shelter for abused children) and Holy Rosary Catholic Church. ARTI has also provided use of its building at no cost to the Southeast Idaho AIDS Coalition (a.k.a. "Breaking Boundaries") and the Gay and Lesbian Alliance for their fund-raising events. In recognition of these activities and our efforts to expand the range and quality of our offerings, the Idaho Falls Arts Council presented ARTI the Outstanding Arts Organization Award in 2002.