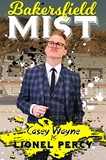 Casey Wayne
Lionel Percy
Lionel Percy—art scholar, expert, and former director of the Metropolitan Museum of Art—is tasked with verifying the authenticity of a long-lost Jackson Pollock painting. Upon flying to Sagebrush Trailer Park in Bakersfield, California, he'll encounter the most crude, vulgar, unlikely of art collectors standing between him and the potential find of the century.
Come see the tragicomedy based on true events, "Bakersfield Mist," beginning January 6th - 28th at The Phoenix Theatre. Decide for yourself whether the $3 junk-store find is truly the work of the prolific Jackson Pollock.
For tickets, show information, or additional details of our upcoming productions, visit our FAQ page, or call Melanie Seneff at (208) 522-8450.