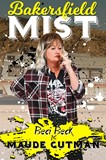 Beci Beck
Maude Gutman
Maude Gutman—an ex-bartender from Bakersfield, California—believes she's found a long-lost Jackson Pollock painting worth millions. Her only adversary? A chauvinistic art expert from New York City with a penchant for proving forgeries. Can Maude convince an elitist of the authenticity of her $3 junk-store find? Or will expertise reign supreme in this battle of wits, insults, and hubris?
Witness the clash of trailer-park debauchery versus scholarly pride in the tragicomedy "Bakersfield Mist" beginning January 6th - 28th at The Phoenix Theatre.
For tickets, show information, or additional details of our upcoming productions, visit our FAQ page, or call Melanie Seneff at (208) 522-8450.