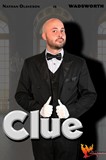 Nathan OIaveson
Wadsworth
Meet your suave and sly host for the evening, Nathan Olaveson as Wadsworth the Butler!
Our fearless leader and President of the ARTI Board of Directors debuted on the ARTI stage in 2018 with his performance in "The Foreigner." Since then, he's become a regular at The Phoenix, performing in an additional 6 shows—"Doublewide Texas," "Ben Hur," "Fox on the Fairway," "Christmas Belles," "Wrong Window," and now "Clue." His recent directorial roles included "The Cake 2.0" and "Parallel Lives." Nate's hard work around the theatre never goes unnoticed, and the Board of Directors are lucky to have him serve our organization.
For tickets, show information, or additional details of our upcoming productions, visit our FAQ page, or call Melanie Seneff at (208) 522-8450.