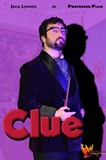 Jackson Loomis
Professor Plum
Blackmail—revenge—games? It all leads to "Clue" beginning September 30th - October 22nd at The Phoenix Theatre. Jack Loomis totes the revolver as Professor Plum in another round of murder-mystery brought to the stage.
In roles big or small, Jack has the uncanny ability to put the "act" in "character." His recent performances in "Christmas Belles" and "Wrong Window" left audiences wanting more of his powerful deliveries and hilarious portrayals. See more of Jack this coming season in "Parasite Drag" next summer.
For tickets, show information, or additional details of our upcoming productions, visit our FAQ page, or call Melanie Seneff at (208) 522-8450.