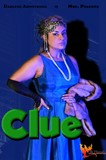 Darlene Armstrong
Mrs. Peacock
Six guests—multiple suspects—only 1 killer..."Clue" comes to the stage September 30th - October 22nd to reveal who REALLY dunnit. Is it Mrs. Peacock, the hysterical, batty wife of a senator, played by Darlene Armstrong?

As a longtime ARTI patron and supporter, Darlene realized she had much to offer our theatre in both talent and unyielding dedication. After her first performance in "Always A Bridesmaid," she exuded hilarity in last season's performance of "Wrong Window" and "Christmas Belles." See Darlene's next murder-mystery role in one of the most iconic productions of its kind.
For tickets, show information, or additional details of our upcoming productions, visit our FAQ page, or call Melanie Seneff at (208) 522-8450.