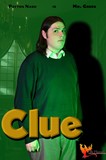 Payton Nash
Mr. Green
How far would you go to conceal your deepest, most exploited secrets? "Clue" hits The Phoenix stage September 30th - October 22nd, with Payton Nash as Mr. Green. You'll soon see why a lead pipe makes for a deadly weapon in the hands of a paranoid klutz...
Payton makes his first ARTI debut in our season opener of "Clue." He's quickly shown a natural talent for acting with his quick wit and vibrant characterizations, and now he'll leave our audiences guessing WHO and with WHAT did THAT to THEM??
For tickets, show information, or additional details of our upcoming productions, visit our FAQ page, or call Melanie Seneff at (208) 522-8450.