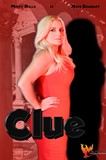 Misty Bills
Miss Scarlet
Only 10 days till our doors open to the mysterious and murderous Boddy Manor. "Clue" is reaching sold out capacity, so don't miss your chance to see Misty Bills as the scurrilous, sassy Miss Scarlet...with a candlestick?
In what will be her first ARTI on-stage appearance, Misty has hosted and volunteered with our organization in the past, and now brings her delightful charm to the center stage in this classic farce of a murder-mystery.
For tickets, show information, or additional details of our upcoming productions, visit our FAQ page, or call Melanie Seneff at (208) 522-8450.